Lowlanders have been travelling to the Blue Ridge Mountains for hundreds of years to avoid the summer swelter. Going to the mountains in late summer with our friends proved to be a great escape for my husband and me. August in the Blue Ridge welcomes wildflowers and butterflies that can take the abruptly changing weather conditions.
The morning was misty and 55 degrees at Clingman's Dome parking lot (elev. 6,643 ft). There was a chance of rain. On the decent to Siler's Bald (elev. 5,607 ft.), via the Appalachian Trail (AT), we walked on faith through mountain "smoke."
As we hiked between crimson bee balm and goldenrod on both sides of the trail, we also hiked between the states of North Carolina and Tennessee —the AT straddles the two. The round trip would be about 9½ miles.
There's a hush in the morning and the mountain air, elevation, and anticipation are soul strengthening. The trail was packed hard with enough rocks here and there to keep us alert. Blackberry thickets abounded and berries tasted wild and sweet.
I don't remember when, but silently and without fanfare the mist disappeared and we could see miles of mountains. A Painted Lady appeared—basking on the strong stalk of angelica. David Wagner in Caterpillars of Eastern North America states that Painted Ladies, which migrate long distances from northern Mexico into the U. S., have no trouble beating Monarchs to Canada each spring.
The combination of red bee balm, snakeroot, and bright yellow cutleaf coneflower was engaging. A Pipevine Swallowtail, fresh and vibrant, and a female Sachem nectared on the snakeroot in different locales.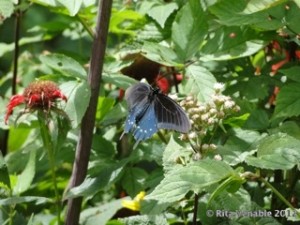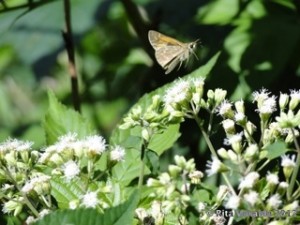 We surprised a Red-banded Hairstreak perching under a leaf probably to escape the elements. Upon our approach, it promptly flew to a leaftop for closer inspection of us.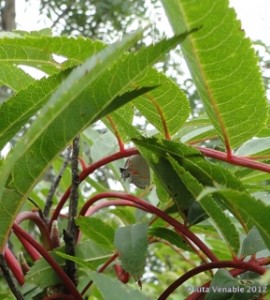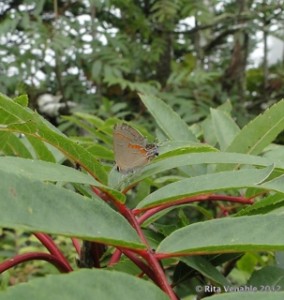 Another Pipevine Swallowtail sipped nectar from a sunflower. This is the Elvis butterfly—more butterflies impersonate (mimic) it than any other species in Tennessee because it is so poisonous to predators. Pipevine Swallowtails in the Southeastern United States have the highest genetic diversity in the U.S.,[1] and all five mimics of the Pipevine Swallowtail occur in Tennessee: Black, Spicebush, and Eastern Tiger Swallowtails, Red-spotted Purple, and Diana Fritillary.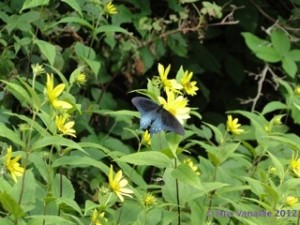 Later, a Red-spotted Purple basked on a small tree, warming its wings for flight. Joe Pye weed provided sweet liquid for a black form female Eastern Tiger Swallowtail, and a Summer Azure flew in spiraled over our heads.
The most "character building" challenge of the day was the return ascent; otherwise the combination of good friends, wildflowers, and butterflies made for a true mountaintop experience.
©Rita Venable 2012
---
[1] Personal interview, James Fordyce, Associate Professor of Ecology and Evolutionary Biology, University of Tennessee, Knoxville